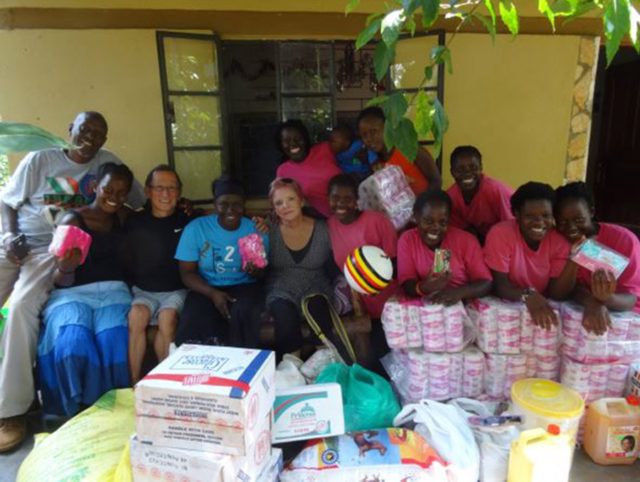 Val's 2020 Fundraiser for Ugandan Families
My Goal
"Hope" – that you will help Jerry and I to buy necessities for Ugandan kids and their families. Every penny you donate will be spent in January 2019 on medicine, food, school supplies, and family kits.
Details
Jerry and I pay all the expenses for our trip costs, crew cab rental, driver/guide, and 2 breakfast feedings for hundreds of kids at 2 school locations. We also donate $3,000 total (through GIVE International) to be divided between 7 Ugandan-run charities that we know well and have come to highly respect over the past 10 years. They each have a different focus ranging from maternity care, education, special needs kids, to poverty stricken elderly grannies.
How It Works
Each day we go into the town of Jinja to purchase supplies for that day's chosen charity for distribution later in the day. On 3 days we hire an extra truck to pick up the supplies for family kits which we then deliver on foot to the most needy families in different villages. We fit the breakfast feedings into our schedule as well, and when we return in January we will see for the first time the kitchen Val donated for Railways settlement. A special thrill since so badly needed.
How You Can Help
Please consider joining us in donating so that we can buy even more supplies for these warm hearted deserving people who are always smiling no matter what hardships they face. It would be a great pleasure to tell them friends from far away have donated the supplies to help make their lives better.
1. To donate online, visit our donations page.
2. Click on: Val & Jerry's 2019 Fundraiser
Or, if you'd like to donate by cheque, please make your cheque payable to GIVE International and mail it to:
GIVE International
Memo line: Val & Jerry's 2019 Fundraiser
272 Dewdrop Crescent
Waterloo, Ontario
N2V 0A9
Thank you for your support!